M-Files Smart Metadata: What Is M-Files Smart Metadata?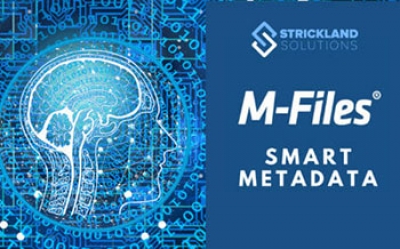 M-Files, at its core, offers all of the benefits of automated content and document management. Uninterrupted workflow, a single source of truth, and consistently accurate, up-to-date information available everywhere you need it at any time.
Access your information at any time, from any device – both online and offline.
M-Files Smart Metadata pushes the boundaries even further of what is possible with M-Files.
M-Files document management repositories are called Vaults. M-Files Smart Metadata is artificial intelligence working inside of your Vault. The application is an effective way to make your business processes operate faster because it is intuitive and straightforward to configure. The accuracy of the document classification feature itself is astonishing.
The more details you provide, the smarter it gets. Below we break down how M Files Smart Metadata can give a completely different dimension to your workflow and documents, their mechanisms, and how they work. Let us help you discover M-Files' full potential!
WHAT IS M-FILES SMART METADATA, AND WHAT DOES IT DO?
M-Files Smart Metadata is an application that utilizes machine learning to provide a more automated document categorization within the metadata fields stored with each asset.
All the documents are stored in the M-Files Document Vault. M Files Smart Metadata is a self-learning solution. Based on user actions, it listens and learns to provide suggestions in the M-Files Vault interface for both new and existing documents.
M-Files Smart Metadata automatically learns how to extract meaningful information pertaining to dates, names, and key organizations. What makes M Files Smart Metadata genuinely unique?
M Files Smart Metadata automates the entire process. It works behind the scenes and improves its results with every use.
M Files Smart Metadata gets metadata right the first time. It is incredibly intuitive and will extract pertinent data in a matter of seconds.
Accurate and up-to-date information is available everywhere you access your vault.
It works within the M-Files knowledge graph (more to follow) to bring together Artificial Intelligence and Machine Learning.
M Files Smart Metadata is included in all M-Files packages except Core.
WHAT IS THE TECHNOLOGY BEHIND M-FILES SMART METADATA?
M-Files Smart Metadata uses the M-Files knowledge graph.
The M-Files knowledge graph is a vault crawling application, a foundational component supporting the Smart Metadata service. M-Files knowledge graph adds intelligence and improves the features throughout the M-Files, keeping it in a constant state of evolution.
The knowledge graph is a service secured in the M-Files cloud, offloading heavy processing of new and existing content. It continuously works in the background to improve personalization, recommendations, and findability.
M-Files Smart Metadata can work with names, important dates, and organizations. The only condition is that information needs to appear within the document to extract it.
M-FILES KNOWLEDGE GRAPH FUNDAMENTALS.
The M-Files knowledge graph resides in the M-Files Cloud.
On-premise vaults can also utilize the benefits of the M-Files knowledge graph. It requires that the Vault information be shared, as well as documents sent to M-Files Cloud.
Which type of data is sent to the M-Files knowledge graph?
Information from the latest version of any .doc, .docx, .pdf, or .txt file in the Vault is sent to M-Files knowledge graph. This includes the text contents of the file as well as its metadata property values.
Data will remain in the M-Files knowledge graph as long as the document resides in the Vault. Once the document is deleted, data will also disappear.
WHAT FEATURES DOES THE M-FILES KNOWLEDGE GRAPH INCLUDE?
The M-Files knowledge graph crawling application indexes and provides metadata, enhanced findability, personalization, recommendations, and more.
M-FILES SMART METADATA VS. M-FILES INFORMATION EXTRACTOR?
Although these two sound pretty similar, specific nuances make M-Files Smart Metadata a more robust choice.
Let's break down how the M-Files Information Extractor works. When you need the information to be extracted, for example, a date – the Information Extractor will extract every date present. M Files Smart Metadata, on the other hand, will withdraw the specific date requested.
Another difference between these two is the breadth of information it can sort. M-Files Information Extractor can extract other types of data (like personal information, phone numbers, geolocation, etc.) through regular expressions, and M Files Smart Metadata currently cannot do that.
When it comes to working environments, M-Files Smart Metadata only requires a connection to the M-Files cloud, whereas M-Files Information Extractor works on an M-Files server only.
If both are installed in one Vault, make sure to configure only one of them for the given metadata.
HOW MUCH EXISTING METADATA IS REQUIRED FOR LEARNING?
Approximately 100 documents will be needed to conduct successful training for artificial intelligence. However, it is also important to note that training is highly dependent on the consistency of your company's documents. If you provide similar documents with all the required information and expected data, 20 of those documents are enough to establish a baseline.
In some instances, M Files Smart Metadata will not be able to learn, even though many document examples were provided. So for M-Files Smart Metadata to work seamlessly for your company, take note of the following:
Keep consistency in documents and strive to template documents accordingly.
Sometimes the documents are encrypted or scanned, so the M Files Smart Metadata fails to recognize the same metadata. Plan a unique ingestion workflow for these types of issues. The solution is to provide clear instructions to help it get the metadata right every time.
Practice makes perfect and will help Smart Metadata learn.
WHAT SECURITY AND DATA PROTECTION SAFEGUARDS DOES M-FILES SMART METADATA HAVE?
With security breaches affecting every vertical and industry, the protection of data is of utmost importance. Every request sent to M Files Smart Metadata is encrypted with an API key authentication. Every API key is uniquely generated for each Vault. Also, data is not shared between different Vaults. In terms of data protection, M-Files Smart Metadata ranks high.
IN CONCLUSION
M Files Smart Metadata is a breath of fresh air in the neverending sea of information. It will help you make your digital transformation faster. You will have accurate meta and classification information automatically. The best part is – it only gets better and more impressive as each day goes by.
M-Files Smart Metadata is growing and evolving alongside your business. Ask us how to make your business smarter.