Reimagine Possible. Add Automation.
Do you want more time? Need more capacity? Are you ready to disrupt your industry? Ready to increase productivity?
The answer is RPA + Artificial Intelligence + Analytics.
Each robotic process automation journey starts differently - from urgent business need to exploration or strategic experimentation. But how do you begin? Strickland Solutions is here to help you discover the right intelligent automation path. As Service Provider and Reseller of Automation Anywhere, we have the expertise, qualifications, and experience to ensure successful RPA implementation.
Our Approach
RPA is both flexible and scalable. As many bots as required can quickly be deployed to perform processes of any complexity. We take a multi-step approach to implementing RPA and managing the life cycle as follows:
Define Goals: We assess how RPA can work for your business
Evaluate Benefits: We identify and prioritize your business process backlog to determine your RPA program plan
Accelerate Benefits: We launch, monitor, and build bot production momentum, increasing velocity to maximize benefits
Measure Return: Using the Bot Insight (BI) analytics tool, we measure the benefits of your RPA program, calculating savings and ROI
We offer quick-start bundles, engagement training, and custom implementation at every level. Let's talk about how your business can see real results using Automation Anywhere.
The Automation Platform of the Future, Today 
The world's most comprehensive, enterprise-grade RPA solution, Automation Anywhere is the only truly scalable RPA architecture designed to meet any deployment need.
IT-acclaimed: state-of-the art automation, cognitive, and analytics technology
Optimized: With separate development, testing, and production environments, Automation Anywhere supports Software Development Life Cycle (SDLC) best practices for enterprises
Bulletproof: Renowned for its bank-grade security, Automation Anywhere is relied upon by more banks and financial institutions than any other RPA provider in the world.
User friendly: Web-based server can be managed from any device
Enable Your Team To Work With Technology, Not For it.
Three main types of bots in Automation Anywhere:
Task Bots
At the core of automation, Task Bots execute repetitive, rule-based tasks that rely on structured data. These bots are easy to build and can execute multi-step processes with no errors. Task Bots are especially useful in areas like HR administration, procure-to-pay, quote-to-cash, IT services, and much more. Task Bots lead to immediate improvements in productivity, cost-savings, and error reduction.
---
Meta Bots
More complex than Task Bots, Meta Bots are scalable automation building blocks that can be re-used in a wide variety of tasks, such as automating applications on a PC. Meta Bots are resilient and can withstand app updates and changes; they also offer offline development, an advantage for restricted apps or those with limited licenses. With many expert-verified, plug-and-play Meta Bots available in the Automation Anywhere Bot Store, making use of them can quickly and easily accelerate company-wide automation, scale automation effectively, and increase ROI.
---
IQ Bots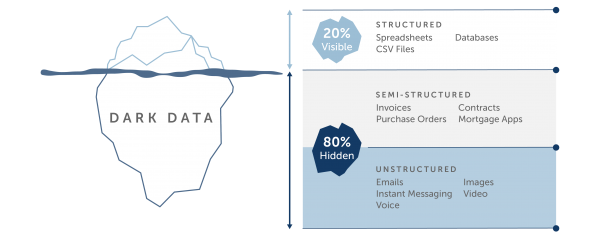 Automation Anywhere makes artificial intelligence accessible to all. Advanced RPA tools, IQ Bots learn from human behavior to automate complex processes with human-like decision making, improving their skills and performance as they work.
Did you know that 80% of enterprise data is hidden? Bots that learn from human behavior bring structure to dark data.
With a user-friendly interface and built-in AI, you can use IQ Bots to analyze and extract unstructured data from documents and images, add new capabilities and functionality, and integrate third-party AI as seamless drag-and-drop actions.
IQ Bots can automatically classify, extract, and validate information from business documents and emails by combining the power of RPA with AI technologies such as Computer Vision, Natural Language Processing (NLP), fuzzy logic and machine learning (ML). Unlock the power of cognitive computing further by using IQ Bots to bridge the gap between RPA and 3rd party cognitive platforms like IBM Watson.
Intelligent automation empowers rapid business process automation and accelerates digital transformation for any front or back-office process. Are you missing out? How could automation impact your business? Reduce waste, increase efficiency, and positively impact your bottom line.
INTELLIGENT AUTOMATION FOR ALL