Why integrations matter
In a typical company, documents are stored in more than three separate content platforms — in addition to several line-of-business applications across the company.
To make some sense of the information you have, you need a way to connect these separate information silos to make it readily available. M-Files integrates with most common line-of-business applications, as well as various content repositories, including network folders, SharePoint, and legacy ECM solutions.
OUR EXPERTISE
INTEGRATIONS
M-Files connection to ERP, CRM, and external databases. (Dynamics GP, Landworks, Aries, Excalibur)

ESRI GIS Integration – ERP & Forestry systems

Replacement of third party Integrated DMS for a commercial application

PsiGen Integrations
---
IMPLEMENTATIONS
More than 22 M-Files implementations in 2020.

Financial, Banking, Insurance, Engineering, Manufacturing, Real Estate, and Healthcare

Vault builder tool - create a vault from specifications in less than 5 minutes
---
WEB PORTALS
1000 real estate agents can register properties with all require documents

GE Capital – Manages $3 Billion oil & gas portfolio on a financial web portal integrating 30 different accounting systems

Insurance portal integrates with existing EIM System
---
QMS
Consumer Testing Labs - Quality Management Software (QMS) solution for SOP management, quality document control and CAPAs

IMPLEMENTATION SERVICES
Migration of existing documents from network folders or legacy systems

Development of a customized metadata driven vault that expedites finding documents based on "What it is" versus "where someone put it"

Connection to external databases such as ERP, CRM, or other structured data to leverage as metadata for documents

Connection to email servers or network folders for automated capture of documents

Implementation of custom workflows and views to support your business processes
Implementation Process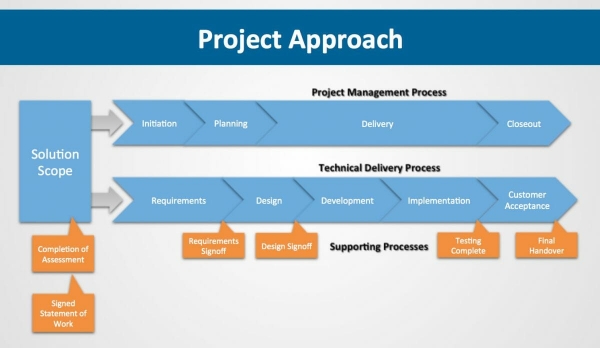 1. REQUIREMENTS
We use a variety of tools to extract, elicit, discover, and gather all necessary requirements for a successful project.
---
2. DESIGN
Our System Architects design a solution from requirements gathered.
---
3. DEVELOPMENT
We build your entire vault, custom integrations, and web portals.
---
4. IMPLEMENTATION
We launch the solution on client hardware or Strickland Solutions' Amazon Cloud. We run functional and systematic testing to verify quality control.
---
5. CUSTOMER ACCEPTANCE
We work with you on user acceptance testing to validate the solution. Strickland Solutions provides technical and user training.